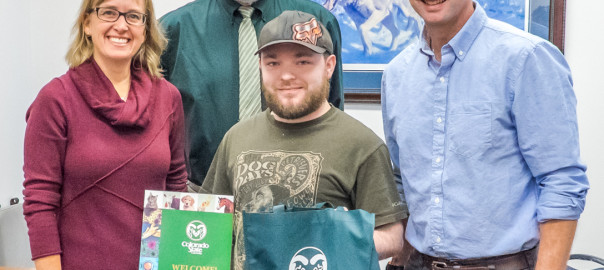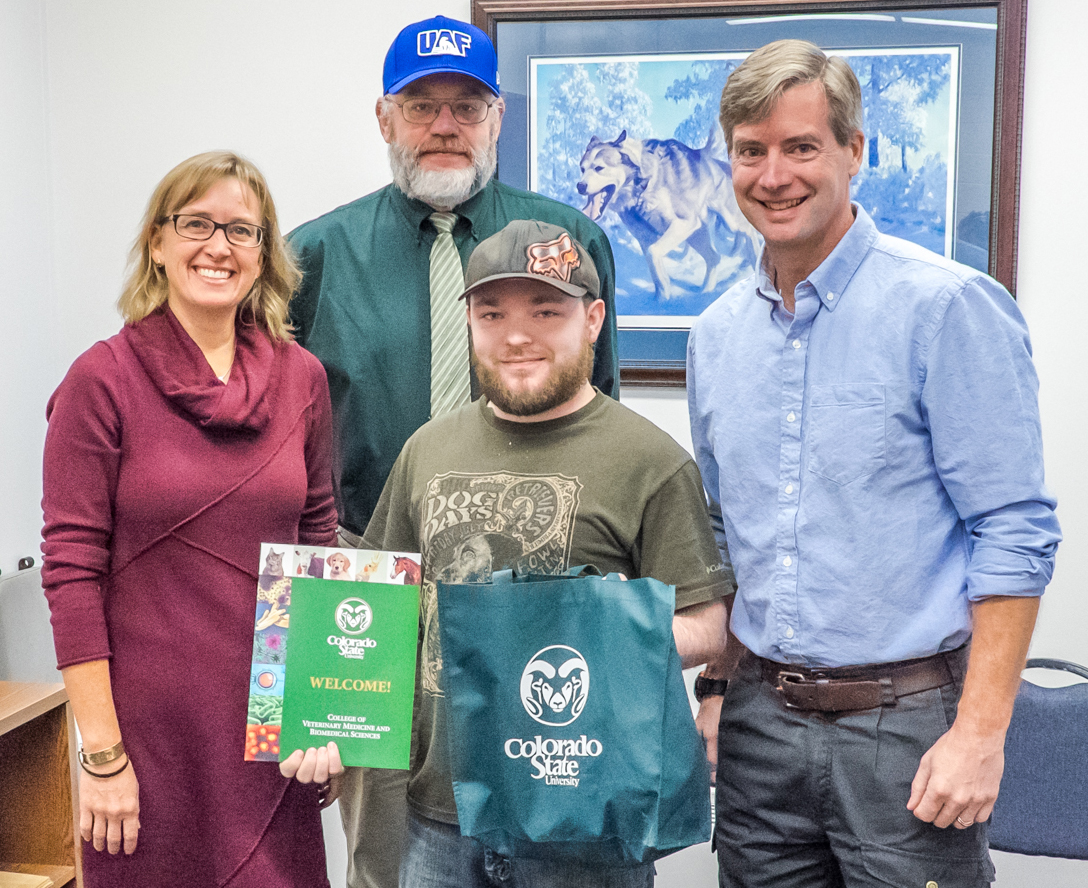 Meghan Murphy
907-474-7541
12/15/2014
The University of Alaska Fairbanks and Colorado State University joint veterinary medicine program is welcoming its first class of future veterinarians.
The program has asked 10 candidates, including five Alaska residents, to be the first students in the universities' joint professional program, which will open its doors in the fall of 2015.
Of the Alaska residents, one undergraduate attends UAF and one studies at the University of Alaska Southeast. Two attend out-of-state universities and one is currently working in Anchorage. The remaining candidates are residents of other states.
The candidates have until April 15 to accept the offer.
Arleigh Reynolds, associate dean for UAF's Department of Veterinary Medicine, said the professional veterinary medicine program has come a long way since its idea was conceived several years ago.
"It was exciting to get this program on its feet, hire faculty and get all the facilities ready," he said. "But the real joy is bringing the students in and helping them reach a lifelong goal."
The program is a partnership between UAF's College of Natural Science and Mathematics and CSU's College of Veterinary Medicine and Biomedical Sciences, one of the top veterinary schools in the country. Students receive their Doctor of Veterinary Medicine degrees from CSU, but their starting point is at UAF. They will take the CSU veterinary curriculum for all four years. The first two years are taught at UAF and students then complete their second two years at CSU.
The program admits 10 students per year, giving preference to Alaska residents. Residents pay the reduced tuition of approximately $28,000 their first two years while non-residents pay the full price of $56,000.
Christine Hardy, who oversees admissions and student services for CSU's veterinary program said the candidates for the first class are outstanding.
"Each candidate presented an application that shows they have the full package," she said. "They have excellent academics, strong recommendations and additional attributes such as leadership, interpersonal, communication and business skills to thrive in the program and excel in veterinary medicine. This inaugural class will pave the path for those who follow."
Hardy was part of the selection committee, which included faculty from both UAF and CSU.
Chris Clement, a biology and wildlife major from UAF, received one of the offers.
"I'm really excited," he said. "I remember when I first heard about there being a potential vet program at UAF."
Clement said he originally had planned to attend veterinary school out of state until he saw the program developing while he attended UAF.
CNSM Dean Paul Layer said the inaugural class will be a significant milestone. "We're happy to have such outstanding students as candidates because they will be leading the way for others," he said.
ADDITIONAL CONTACTS: Arleigh Reynolds, associate dean for the Department of Veterinary Medicine, College of Natural Science and Mathematics, University of Alaska Fairbanks, 474-7904, ajreynolds@alaska.edu. Christine Hardy, senior director for Professional Veterinary Medicine Student Services, College of Veterinary Medicine and Biomedical Sciences, Colorado State University, 970-491-7054, Christine.Hardy@colostate.edu.
MM/12-16-14/141-15