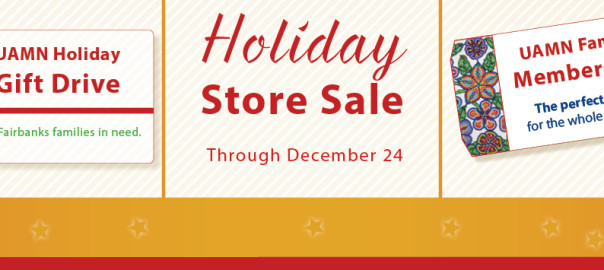 Theresa Bakker
907-474-6941
12/4/14

The University of Alaska Museum of the North will hold a holiday store sale and gift drive.
Shop in the museum store and get 10 percent off all merchandise through Dec. 24. Museum members will receive a 20 percent discount.
Each year, the museum acts as a collection point for donations of toys and gifts for Fairbanks families in need. This year the museum is partnering with the United Way's holiday gift drive, a Fairbanks tradition that helps those in need during the holiday season.
The museum is also offering a family membership-in-a-mug, which can be given as a gift or donated to the drive. All proceeds from memberships and museum store sales support exhibits, research and education programs. For more information call 474-7505 or visit the museum online at museum.uaf.edu.
ON THE WEB: http://www.uaf.edu/museum/plan-your-visit/happenings/
TB/12-9-14/138-15